AI has made creating videos an easy undertaking and even those with no prior video making experience can create amazing talking-headshot videos. Moreover, Synthesia keeps the cost of its platform affordable for businesses of all sizes; thereby, negating the need to spend an exorbitant amount on the software.
What is Synthesia?
Synthesia is a world-class AI-driven video production tool that provides users with professional-level videos without needing any expensive film-making technology or onscreen personalities. It further empowers its users by helping them refine their visuals and individualise their product through array of features, thus capturing a larger audience in the process.
Synthesia utilizes advanced facial recognition technology, powerful audio features, customizable avatar personalities and look to produce realistic 3D avatars with natural movements. Plus, it has a low cost plan so businesses of all sizes can benefit from it too. All in all, Synthesia offers unparalleled convenience and value for money for anyone looking for a top notch video creation experience.

What Are Some Of The Advantages Of Synthesia IO?
Synthesia AI provides many benefits when compared to alternative video applications. First, its AI technology is effortless to use, even for those lacking technical know-how. Second, you can create high-end videos in a much shorter time frame than manual methods would require. Third, economical pricing ensures that the software fits within any budget.
Additionally, the AI presenter feature ensures that each video has a consistent and polished look with minimal effort on your part. Finally, Synthesia also integrates with popular editing tools such as Adobe Premiere Pro or Final Cut Pro for further customization possibilities.
Synthesia AI: The Ultimate Tool for Easy Social Media Video Creation
Synthesia AI is an excellent platform for creating social media videos for businesses and marketers. It provides a comprehensive set of features at a reasonable price, allowing you to create professional-looking videos with ease.
Synthesia is an AI-based video editing and video creation tool that allows people to create stunning videos using their own scripts or text they want converted into videos. By using the software, users can generate different looks and personalities in the avatar which will animate according to the voiceover that's provided. The pricing structure of Synthesia allows users to access the platform at a reasonable cost, which includes 25+ pre-built templates and 10 video credits per month. Also, it includes multi language support so people can produce international videos without worrying about an unfamiliar language barrier. With its feature of adding background music and importing PowerPoint presentations, users can easily create more stylish videos for their businesses without any extra expenses on expensive equipment. Moreover, people can also access deepfake technology if they are looking to get avatars that look exactly like them as well as use screen recordings while making the video clip. All in all with Syntesia anyone – from course creators to business owners – can easily generate social media friendly videos for marketing purposes with ease.
Synthesia IO Pricing
You can create unlimited videos for one low price of $30 per month.
The pricing plans are as follows:
Personal: $30
Corporate: Contact Synthesia
Build Your Own Avatar: $1,000
Synthesia Features
Synthesia also offers dynamic image composition so you can easily add subtitles, logos, images and other visual elements.
It's like having a whole video production studio at your fingertips!
Synthesia IO is an all-in-one solution for AI video businesses automation. Have the opportunity to choose from an array of features such as avatars and language support, templates and dynamic image composition, text-to-speech technologies, custom backgrounds and screen recordings.
ave time and produce high quality videos with Synthesia – it's easy to use, considerably improves customer engagement, as well as increases sales. All in all, Synthesia offers a comprehensive and complete set of tools to make beautiful videos with ease while also giving you the convenience of automating parts of your business.
Synthesia Editing Studio
At the Synthesia editing studio, you can bring your video goals to life easily and conveniently. The user-friendly interface will make it simple for virtually anyone to take advantage of the diverse and powerful features. You'll be able to input a script and customize it with language, select avatar/s, add music, as well as record content with text-to-speech capabilities. At incredible speeds, you can whip up quality videos without needing professional support. All reasonable questions about its legitimacy are summarily answered: yes, Synthesia is a credible application you can trust for creating videos from plain text in a matter of minutes, giving major savings compared to hiring pros. Furthermore, whether your aim is corporate communication or training videos or marketing projects – Synthesia AI will help carry out tasks expertly and promptly!
Synthesia And Its Alternatives
Do you want to embed video content on your website, or create a sales video letter for better conversion rates? If so, there are plenty of excellent alternatives to Synthesia.io available in the market. Deepword, Invideo, Rehrase AI, and Yepic AI are just some to mention. All these tools provide an impressive output and have the potential of driving higher conversion rates with ease.
When looking for a suitable AI marketing tool, your budget as well as individual needs come into play. It's always better to try out each one of these before making a final call. This way it will be easier for you to determine which tool is capable of meeting your specific requirements in the best possible manner. Doing so will make sure that you save both time as well as money and get the required outcome as efficiently as possible.
The good thing about these AI video tools is that they reduce the necessity of manual labor and come cluttered with features that allow marketers to achieve decent results over time. Hence, if you're searching for viable Synthesia alternatives then these tools might be worth considering.
How to make money with Synthesis
Make money by creating videos for other businesses, or create marketing videos for yourself. There are countless ways to cash in with Synthesia's AI-driven video production tools.
If you're a self-starter and up for a challenge, why not give Synthesia IO a try? This AI video production solution is perfect if you want to make professional-grade videos without having to invest in expensive hardware and software. Synthesia is easy to use, provides efficient, high-quality outputs and greatly simplifies the process of making video content, whether it's for your own personal business or someone else's. With patience, creativity and hustle you could be making steady income from producing videos with Synthesia online.
Starting a side hustle or even setting up a full-time business is definitely one way to make extra income or build up capital. If you have good creative skills with audio and video editing then why not consider getting involved with Synthesia IO? This amazing software allows you to create high quality marketing videos quickly and efficiently while saving time, money and effort.
Synthesis IO is an amazing program that offers a variety of options to get you started with video making. You can create video demos, tutorials, testimonial videos, social media ads and much more! Depending on the length and quality, one project could earn you anywhere between 500-5,000 bucks – how awesome is that? What's even better about this program is that not only does it give awesome results at an affordable price compared to actual hardware and software costs when done manually but there are also opportunities for earning more cash through upselling potential customers.
So if you have some mad selling skills then this might be your chance to hit up those bank accounts with some extra moolah!
This computerised video editor allows anyone with limited video experience to easily make amazing video content. It works with market savvy and salesmanship combined in order to get the most out of this career venture. The possibilities of how far you wish to take your passion are limitless! With rigorous effort and dedication combined with the value Synthesia provides, there's no telling how successful you could become! Just think of all the great financial opportunities available when engaging in successful video creation. Casper now and grab yourself this golden opportunity and start living life on your own terms today!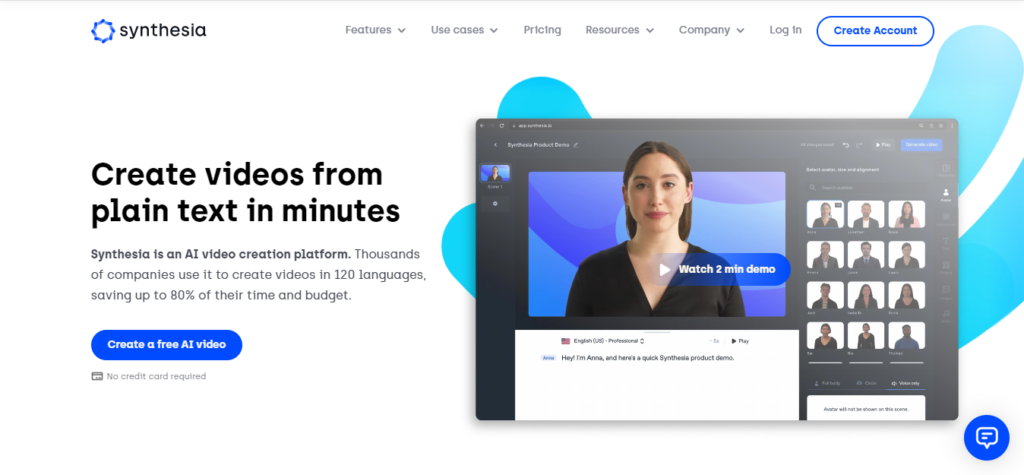 Summary
Synthesia.io is an excellent program that enables users to craft engaging, personalized videos quickly and effortlessly. Powered by advanced AI technology, the platform provides a wide range of customization tools and templates while maintaining a straightforward interface. This makes it an attractive choice for businesses, marketers, educators and individuals who don't possess video-editing abilities. With its robust suite of features and convenience that it offers, Synthesia.io is the perfect solution for creating top-notch videos in no time at all.
Do you want to start using it? Follow this link to start!
https://www.synthesia.io/free-ai-video-demo#SalesPitchNewree-ai-video-demo#SalesPitchNew