UseChannel.com is a web-based platform offering customer messaging services to businesses. It enables companies to reach customers through messages sent via SMS, WhatsApp, or Facebook Messenger. Businesses can view, manage and respond to customer questions, support requests and feedback from one integrated dashboard. This provides an efficient and effective way for businesses to stay in touch with their customer base.
What messaging channels does the Channel platform support?
The Channel platform offers companies options to converse with their customers in a variety of ways. Through this platform, businesses get access to various messaging channels, including:
1. SMS (Short Message Service): This is an oft-used form of communication that allows businesses to transmit text messages straight to their customers' phones. With the Channel platform, enterprises can send and receive these texts from one streamlined dashboard, removing any requirement for extra follow-up or tracking strategies.

WhatsApp: Another popular messaging app that is used around the world is WhatsApp; this is also supported by the Channel platform which allows businesses to use it to connect with customers and manage conversations.
Facebook Messenger: An additional messaging app that many people use regularly is Facebook Messenger; it works through the Channel platform as well as enabling companies to engage with customers on this channel in particular.
Apple Business Chat: By using Apple's Messages app, business owners are allowed access to Apple Business Chat – another useful messaging feature available through the platform allowing them not only access but complete control over customer support, answering inquiries and general engagement.
Google Business Messages: Customers can also message companies directly from Google search results or Maps via Google Business Messages – strategically providing extra convenience for customers while giving companies fullpower over managing all messages through one single dashboard interface within the Platform system itself – an invaluable time saver and effort eliminator!
Web chat: The creativity doesn't stop there either; website owners get access to web chat capabilities throught he same exact dashboard simplifying any type of customer service or engagement projects they may be running freeing up time for other aspects such as growing their business further!
Finally once again offering enhanced flexibility options outside of its mainstream services; users gain access integrations with other messenger apps such LINE, WeChat, and Telegram among others – really hamnmering in how powerful this working suite really is when it comes to connecting with modern day consumers on a whole host of levels without having to invest significant additional resources into doing so!
In conclusion then theChannel Platformallows unprecedented versatility when it comes allowing businesses interact deeply and therapeutically with its audiences providign innovative solution sand cutting edge precision when managing conversations across multiple channels from one potentiall powerful toolbelt-style environment – unhindered by traditional limitationsand boundaries of yesterday's working practices!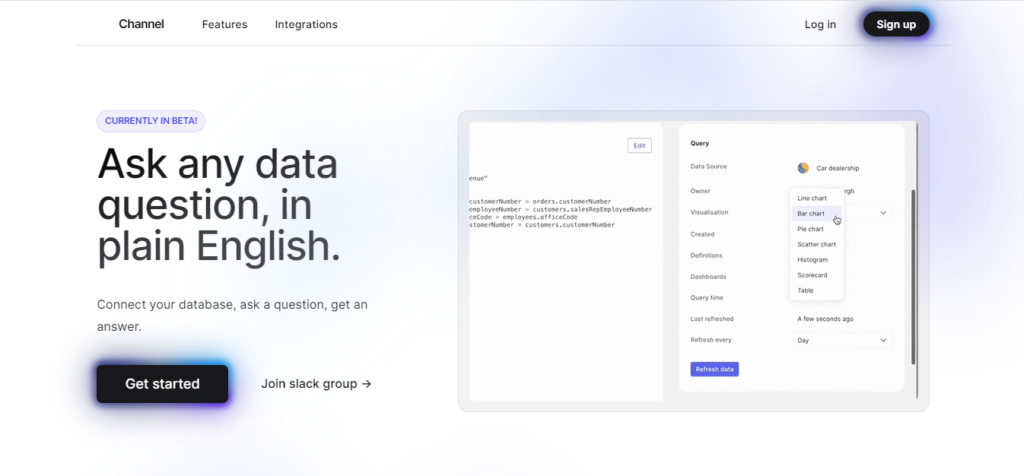 How does Channel help businesses to improve their customer support and engagement?
The Channel platform is a comprehensive messaging solution which helps businesses to improve customer engagement and support, in the following ways:
1. Centralized Messaging – simplifies ongoing conversations with customers, enabling companies to view and respond easily through a single dashboard rather than multiple platforms or applications. This leads to faster response times and reduced risk of errors, creating a better customer experience overall.
2. Multi-channel Support – customers can be connected through SMS, WhatsApp, Facebook Messenger, Apple Business Chat, Google Business Messages, and web chat depending on personal preference. Reaching out through multiple channels engages more customers whilst providing personalised experiences for each user.
3. Automated Workflows – businesses can create automated flows for everyday inquiries and support requests that divert onto the relevant team member or department as needed. Overall workload is lessened whilst response times are improved thanks to efficient systems running in the background.
4. Analytics & Insights – features like response time metrics and customer satisfaction ratings provide data on how successful your service is proving to be along with suggestions for future improvements based on customer feedback; this way operations can become optimised and find potential resolutions where needed quickly
5. Integrations – the platform can link up with other software including CRMs (Customer Relationship Management), help desk software and e-commerce services so that tasks are automated rather than done manually which saves time as well as money spent elsewhere when hiring additional staff members for repetitive tasks .
In conclusion the Channel platform offers plenty of opportunities of help businesses deliver amazing customer experiences as well as grow their relationships with existing clients by streamlining their processes with technology specifically designed for their needs..
What are some of the key features of the Channel platform? 
The Channel platform offers a comprehensive messaging solution for businesses, with key features like a unified inbox, automated workflows, customizable templates, multi-channel support, integrations, analytics & insights, collaboration tools and secure compliance.
1. Unified inbox enables businesses to handle all customer conversations in one place, regardless of the messaging channels utilized by customers. This expedites response time and maximizes efficiency.
2. Automated workflows enable companies to create predetermined responses and workflows to manage customer inquiries quickly and effectively while making the overall customer experience more satisfactory.
3. Customizable templates make it easy for companies to curate appropriate responses for their customers and save time in the process as well.
4. Multichannel support makes communicating with customers on diverse platforms including SMS, WhatsApp, Facebook Messenger, Apple Business Chat and Google Business Messages hassle free so one can easily connect with customers on the channels they prefer and improve engagement rates too.
5. Integrations provide businesses opportunities of streamlining operations while automating tasks and reducing the need of manual data entry employing popular software such as CRM systems, help desk software and e-commerce platforms.
6. Analytics & insights give details regarding customer conversations such as response times, conversation volume & customer satisfaction ratings helping businessmen quantify areas which require improvement in terms of workflow optimization & appraisal of customer support efforts impact on overall business functioning effectively.
7. Collaboration tools let team members to work on respective customer conversations with unity providing better customer service overall along with improved response times due to shared information between team mates regarding respective assignments increasing efficiency impressively at the same time..
8. The Channel platform is made sure that it is totally secure (GDPR & HIPAA compliant) thereby protecting customers' data privacy & adhering to regulatory requirements simultaneously too covering all facets holistically .
How much does the Channel platform cost?
The Channel platform provides four pricing plans which can meet a business's specific needs and offer different levels of features: Starter, Professional, Business and Enterprise.
1. Starter Plan is tailored for start-ups or small teams beginning with communication services; It provides up to 3 messaging channels and support basic service feature with one user included in the plan; Pricing depends on individual business demand.
2. Professional Plan is designed for expanding businesses which need higher messaging channels, multiple users' support, and more advanced features; Up to 5 messaging channels and 5 users supported for this plan with priority given according to business demands in terms of pricing.
3. Business Plan targets established companies with higher number of messaging activities along with comprehensive service requirements; Maximum 10 messaging channels are provided along with 10 users' support; Also featured is a dedicated customer success manager to help enhance client's experiences; Customized cost based on company's particular needs.
4. Enterprise Plan concentrates on large-scale organizations that need abundant messaging volume as well as sophisticated service capabilities such as customization integration, 24/7 technical support and top-end analytics produced from data collected across all platforms; Unlimited message channels and users are provided at a proportionally adjusted price based on specific requirements of each enterprise client.
5. A free trial period is also available so as to permit potential clients to experience the supporting capacity offered by Channel platform without any constraint while evaluating performance level if they consider using the platform in the future.
To obtain more priced details and get estimated quote, potential customers are welcomed to submit an enquiry form on Channel's official website, then a representative will contact them shortly afterwards offering necessary information in the context of prices and other issues related
Can Channel be integrated with other business software and tools?
The Channel platform is equipped with a wide range of integrations that enable businesses to connect and streamline their messaging channels with other tools like CRMs, help desk software, marketing automation platforms and more; resulting in improved collaboration and customer experiences.
1. Included among the integrations are Customer Relationship Management (CRM) tools such as Salesforce, HubSpot and Zoho CRM that allow the synchronization of customer data and conversations in one place.
2. Help Desk integration from Zendesk, Freshdesk and Help Scout makes it easier for businesses to support customers across all communication channels in one go.
3. Marketing Automation integrations from Marketo, Pardot and Mailchimp equip companies to use messaging as a tool for marketing as well as engagement campaigns.
4. E-commerce integrations with Shopify, WooCommerce etc., enable companies to manage their online stores right through their messaging programs by providing support via sales messages.
5. Furthermore, custom integration through APIs or webhooks helps businesses with any other kind of software or tool they have or use additional to other existing processes.
All these integrations make it easier for businesses to tap into increased customer engagement while driving sales and delivering better customer experiences with individualized support options finally resulting in ultimate business success!
What types of businesses are best suited for using the Channel platform?
The Channel platform is a flexible and versatile tool that can be used by a wide range of businesses in different industries. Businesses that are particularly well-suited to leveraging the platform include e-commerce businesses, service-based businesses and healthcare providers.
1. E-commerce businesses can make use of the Channel platform to make communication with customers such as through WhatsApp, Facebook Messenger and SMS quicker and more personalised. This makes it much easier for these companies to provide an enhanced customer experience that is convenient, speedy and tailored to each individual customer's needs.
2. Service-based providers such as hotels, restaurants and airlines also stand to gain from using the Channel platform. It makes it simpler for them to send realtime updates to customers, manage reservations, give personalised recommendations etc., all of which leads to improved customer satisfaction levels as well as decreased wait times.
3. Healthcare professionals such as clinics, hospitals and telemedicine providers can equally benefit from making use of messaging channels via the Channel platform when communicating with patients; providing health advice; schedules appointments; conducting remote consultations; completing follow up appointments etc., all aiding in time savings and improved patient outcomes overall.
4. Businesses in the financial services industry, such as banks, insurance companies and investment firms can benefit from using the Channel platform. With this platform, they can communicate with customers through messaging channels to provide updates on accounts and answer queries. Additionally, personalized offers and alerts to customers can be sent to increase customer loyalty and engagement.
5.Travel and hospitality businesses like hotels, airlines and tour operators also have much to gain by using the Channel platform to their advantage. Through secure messaging channels such updates and answers related to travel arrangements can be provided while reservations can also be managed conveniently through the same platforms reducing wait times for customers..
In conclusion, the Channel platform is versatile enough that any company wanting to increase customer engagement and personalization should consider using it as a tool. By optimizing the customer experience with messaging channels, businesses will have more opportunities for increasing engagement with their customers as well as drive revenues in sales growhts model kinds of applications or frameworks standards objectives principles goals guidelines technical advice etc.
How easy is it for businesses to set up and use the Channel platform?
The Channel platform has been designed to provide ease of use and setup for businesses looking to take advantage of its range of features. This article will provide a closer look at how businesses can make use of the Channel platform, so they can easily set up, manage and utilise it:
Straightforward Set-up Process: The process for setting up and using the Channel platform can be completed in a matter of minutes. Businesses simply have to sign up, choose their preferred messaging channels and begin using the platform immediately.
Intuitive User Interface: A particularly user-friendly interface is also included on the Channel platform. As navigation menus are clear and easy to comprehend, businesses should find it simple to locate whichever function they need when utilizing the platform.
Tailored Workflows: When customizing their workflow, businesses are provided with all sorts of options concerning the messages they send out, response times and routing rules amongst other things. This ensures that conversations between customers and staff members can be managed effectively and be dealt with swiftly as needed.
Automation Options: Time-saving automation tools are also provided on the channel platform; such as automated responses which can be sent automatically in response to commonly asked queries by customers in order free up agents' time to concentrate on bigger problems.
Integrations with other tools: The Channel platform can be integrated with other business software and tools, such as CRMs, help desk software, and marketing automation platforms. This integration capability makes it easy for businesses to connect the platform with their existing tools and workflows, improving collaboration and streamlining their workflows.
Comprehensive support: The Channel platform provides businesses with all the necessary resources and assistance to get off the ground, as well as full usage of the platform. Companies have support in the forms of documentation, tutorials, and discussion forums which will provide them all they need to get to know and use the platform competently.
Scalability: The Channel platform is designed to be scalable, meaning that businesses can easily add or remove messaging channels and agents as their needs change. This flexibility allows businesses to grow and adapt as their customer base expands or their needs evolve
The Channel platform is created with simplicity in mind to make the setup process and usage effortless for businesses. Its user-friendly interface, versatile workflows that can be tailored to befit certain needs, automation capabilities, connections to other applications, detailed assistance and its capacity to grow with the business offer a cohesive and straightforward experience.
Comparison with other customer support and engagement tools in the market
The offerings found in customer support and engagement tools are numerous. While each tool has its own pluses and minuses, this is a comparative review of the Channel platform against some of the most popular such products in its class:
1. Zendesk:
• Widely-used customer support platform
• Offers similar features to Channel, including multi-channel support and automation workflows
• Can be more complex to set up and use compared to Channel
• Pricing plans can be more expensive for businesses with larger support teams
2. Intercom:
• Popular customer communication platform that focuses on real-time messaging and chatbots
• Highly effective for engaging with customers in real-time
• May not be as effective for managing complex customer support workflows or handling high volumes of customer inquiries
3. Freshdesk:
• Cloud-based customer support software that offers similar features to Channel, including automation workflows and multi-channel support
• Not as customizable as Channel
• Pricing plans can be more expensive for businesses with larger support teams
4. Help Scout:
• Customer support platform that emphasizes collaboration and team workflows
• Offers many similar features to Channel, but may not be as effective for managing complex automation workflows or integrating with other business tools
5. OVERALL comparison of Channel Platform:
• Strong combination of features, ease of use, and pricing options compared to other customer support and engagement tools in the market
• Focus on automating workflows and integrating with multiple messaging channels make it a strong choice for businesses looking to improve their customer support and engagement capabilities
Summary
In the modern business landscape, having the right customer communication platform is essential for streamlining customer support and engagement processes. In response to this need, https://www.usechannel.com/ has emerged as a unified platform that helps businesses manage conversations across multiple channels in one place. With this platform, businesses can save time and effort while maintaining consistency in messaging and branding to build trust with customers.
Aside from practical benefits, https://www.usechannel.com/ also offers a more personalized experience for customers. The platform provides users with an intuitive and user-friendly chat interface which helps foster engagement with businesses and ensure timely responses to inquiries. Moreover, its chatbot capabilities enable automation of certain interactions with customers, freeing up valuable time and resources for more complex tasks.
Furthermore, https://www.usechannel.com/ allows businesses to track their performance in terms of metrics such as response times and customer satisfaction rates, providing valuable insights into customer behaviour which can be used to optimize communication strategies and improve the overall customer experience. It also allows businesses to integrate it seamlessly with popular CRM systems like Salesforce or HubSpot as well as messaging apps like WhatsApp or Facebook Messenger, so existing tools are not rendered obsolete yet still benefit from the features of the unified platform.
Moreover, https://www.usechannel.com/ is designed to be a scalable solution that can adapt to ever changing business needs; from startups just starting out to those experiencing rapid growth spurts, the software's modular architecture enables them to only pay for what they require without sacrificing functionality or ease of use – meaning maximum flexibility as well as cost efficiency for customers at every stage of development..
All things considered, https://www.usechannel.com/ is a key tool driving success in the digital age – by optimizing communications processes, gathering data on customer behaviour patterns & preferences and representing your brand across different channels in an engaging manner you can expect higher levels of satisfaction & loyalty along with enhanced ROI levels so definite advantages all round!