If you're looking for a Text to Speech (TTS) generator to create high-quality voiceovers, Murf.AI is one of the most popular options on the market. It comes equipped with several useful features and could be a good fit for certain projects. But before diving in, it's important to investigate whether or not Murf.AI is the right choice for your particular needs.
This article serves as an ultimate guide to Murf.AI and reviews of what people are saying about it in 2022. We cover topics like pricing, ease of use, customisation options and more so that you can make an informed decision on whether or not Murf is right for you. With this helpful guide in hand, you'll be able to select an AI voiceover generator that fits your specific needs and budget.
What is Murf.AI?
As the content creation industry continues to grow, Murf.AI has quickly become one of the go-to tools for entrepreneurs, remote workers, influencers, and creative professionals. You can copy& paste your script directly into the app to create an audio file in few clicks! Moreover, users are allowed to customize their audio file by selecting a human-like voice from the rich library of natural voices that sound like real people.

Murf.AI also includes features such as pitch fine-tuning and language selection so that users can create custom audio files according to their needs. Furthermore, its voice cloning feature helps users make accurate copies of voiceovers done by real speakers in multiple languages. This makes it easier for creatives and marketers to produce content quickly with minimal effort. Also, It's very difficult to detect that it's a machine-generated voice due to its human-like pronunciation accuracy and high intelligibility rate.
With more products like Murf.AI popping up in the market every day, creating engaging content has become easier than ever before!
Who is this platform suitable for?
Murf.AI is suitable for a variety of users – from educators to business professionals. Teachers and educators can use the platform to create e-learning videos, tutorials and training sessions with automated voiceovers instead of hiring a freelancer voice actor. Content creators also benefit greatly from Murf Studio's AI voiceovers for YouTube videos, explainer videos, as well as audio and video content. Business professionals can generate custom voices for ads or presentations without having to hire a professional voice actor – saving time and money without sacrificing quality. On top of that, Murf.AI turns text into speech with its realistic human-like voices that makes listening more enjoyable – offering scores of languages, dialects and accents for users to choose from when internationalizing their content too!
Who owns MURF AI?
Murf AI was founded in October 2020 by Sneha Roy, Ankur Edkie, and Divyanshu Pandey and is headquartered in Salt Lake City, Utah.
What is the technology behind MURF AI?
Murf uses artificial intelligence in its products through machine learning and cloning of voices. It utilizes text frontend processing, which involves taking natural language input and processing it to create synthetic speech. The backend requires the use of recorded data of human voices in order to generate a high-quality clone of that voice using the neural network. This process is complex, however Murf manages to create realistic clones with intricate nuances from the original speaker's intonation and accent. In this way, Murf is able to create high quality neural voices for its products that sound almost identical to the real thing.
Features Of Murf.AI
Murf Studio is a comprehensive voice generator based on artificial intelligence (AI). For only a monthly subscriptions, users can access more than 120 different voices in over 20 languages, plus tools to change the pitch, sync audio with word processing and even activate a grammar assistant. It has a text-based editor as well that allows you to customize your voice recordings. In addition there are tutorials to help you get the best out of Murf Studio. With its easy to use functions and competitive price, this AI-voice generator is sure to revolutionise the sound recording industry.
The Pros
Murf.AI offers voices for both males and females with multiple tones, pitches, and accents to choose from.
You can customize the speed, tone etc. of a voiceover in Murf Studio.
Synchronization is precise in Murf Studio – you can time your audio exactly as needed.
Google Slides can be connected to create a presentation with text-to-speech audio without even having to leave the platform.
The Cons
You are only allowed to have 10 minutes of free voice generation before you will have to pay a fee for extended use.
Numerous users have voiced their dissatisfaction with the video editing as it is missing crucial features.
Murf.AI Pricing
Murf.AI offers a variety of subscription plans for their speech generation and transcription services, each designed to match different levels of usage:
-The Free plan allows users access to all voices but limits transcription and voice generation to ten minute intervals, without the ability to download any of the generated voices.
-An upgraded Basic plan includes 24 hours of voice generation per year with 60+ voices and costs $13/month if subscribed annually.
-The Pro plan includes 96 hours of voice generation per year with 120+ voices at a cost of $26/month if subscribed annually.
-For businesses requiring more use the Enterprise plan offers unlimited voice generation, custom voices, and costs $167/month when subscribed annually. All subscription plans come with commercial use rights along with unlimited downloads and customer support included in the cost.
Murf.AI offers different subscription options that vary in the features included. The free plan is limited and does not provide access to all features that the platform offers. To gain access to the complete range of tools, you'll need to subscribe to one of the paid plans depending on your needs. The Pro plan provides more features than the other plans, so it may be a better value for money if you think you will need those extra tools.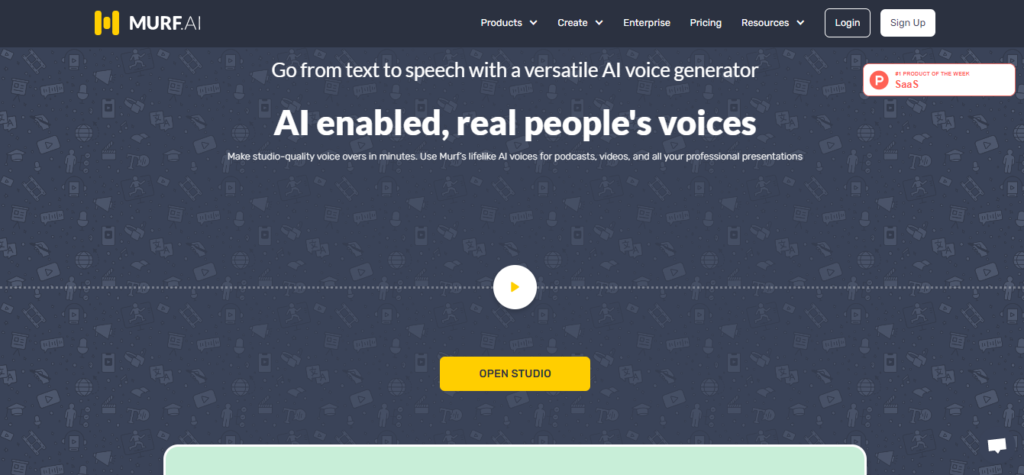 Murf.AI Customer Reviews
The majority of reviews for Murf.AI are positive, however there are a few dissenting opinions from users who have experienced issues with the platform. Most users agree that the quality of the AI-generated voices is satisfactory and that the program is fairly intuitive when it comes to text-to-speech conversions. Additionally, many customers report being pleased with the customer service they've received from Murf.AI when dealing with technical difficulties, as well as its helpful online tutorials and quick response.
On the downside, many customers feel that there's room for improvement in certain areas such as Murf.AI's user interface. Several user reviews mentioned the platform's lack of customization options when it comes to creating personalised AI voices, their sometimes inaccurate results, and its expensive pricing structure compared to other voice cloning programs on the market. Ultimately though, most customer reviews on Murf.AI reveal satisfaction overall with using the product for generating computer generated speech for various applications.
Conclusion — Is it worth it?
I found the Murf AI program very convenient and effective. Compared to other voiceover programs, it was a refreshingly simple yet powerful tool. It gave me quick results, allowing me to create numerous high-quality audio files virtually effortlessly.
The interface is clean, intuitive and easy to use, making it perfect for beginners and professionals alike. The variety of options allows us to experiment and customize our voiceovers as needed, as well as giving us access to background music and a library of sound effects.
Murf AI stands out for its affordability – it is incredibly affordable for what it provides. I also liked that their customer service is excellent, quickly responding to any questions or issues I may have had with their product. Overall, Murf AI has been an outstanding tool and provided me with great satisfaction in the end results!